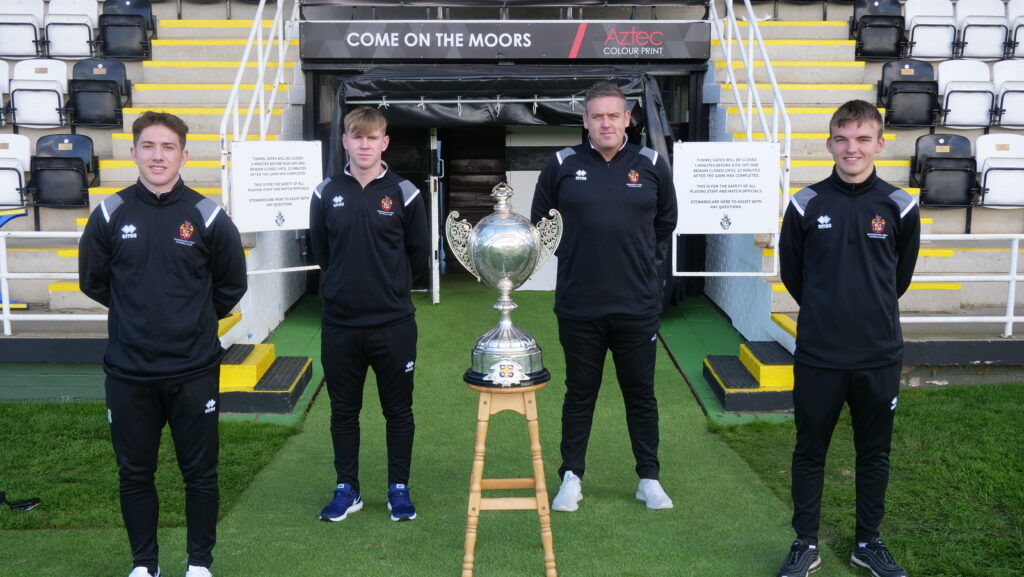 Spennymoor Town will share the Durham Challenge Cup Trophy with Sunderland after progressing to the final of the competition in the 2019/20 season.
The final, scheduled to be played at The Stadium of Light in March, was cancelled due to the Coronavirus pandemic, with the fixture unable to be rescheduled.
As a result, Moors will keep the trophy on display at The Brewery Field for the next six months before handing it over to Sunderland.
Moors progressed to the final after wins over Darlington Town, Chester-le-Street, Sunderland RCA, West Auckland and Stockton Town.
Head of Academy, Andy Lowe, who was in charge for the run to the final, was proud to be able to bring silverware to the club.
He said: "Winning the Durham Challenge Cup is an extremely proud moment for the club, players and fans who were part of the journey during our unbeaten run to the final.
"I am extremely proud to have been given the opportunity by Jason to manage the team throughout the competition, and I am delighted at the opportunities we were able to give our Under 18 players to play against some very strong senior sides in each game as we progressed to the final.
"We focus massively on development with our younger players, so for them to be actively involved in each game, playing competitive senior football alongside the exceptionally talented players we have in the first team, has been one of the biggest highlights of the competition.
"The senior players were superb throughout, both on and off the pitch, and it's also important to mention the contribution of coaches Mark Scott and Lewis Dickman who were an integral part of the success along the way.
"We were all looking forward to playing the final at the Stadium of Light against Sunderland, but as we know, the COVID pandemic prevented this from occurring.
"It would have been fantastic to play the final, however the safety of all players, staff and fans is far more important during these unprecedented times.
"There are so many positives to take from last seasons competition, and to be recognised as winners and sharing the trophy means the hard work and respect the club gave to the competition and reaching the final is rewarded.
"A huge well done to all players involved, thank you to the supporters who came to each game and good luck to the Jason and the first team as they embark on their new National League North season."