The safety of supporters, staff and players is the main priority for Spennymoor Town Football Club ahead of Saturday's friendly with Sunderland AFC at The Brewery Field.
Together, we have been through the most challenging time with unprecedented demands placed upon us all.
The club has worked hard to develop it's COVID 19 safety plans and has followed all the guidance and legislation provided by the Department for Digital, Culture, Media & Sport.
The club has also guidance by the Sports Ground Safety Authority and has been in regular contact with Durham Police and Public Health England.
Spennymoor Town are aware that there are ongoing reviews of COVID 19 protocols and the club will be ready to respond to changes.
If you are feeling unwell in any way please resist attending. The club will refund purchased tickets as appropriate.
Face masks are mandatory on entry, exit and any indoor areas. Masks are discretionary outdoors providing social distancing can be maintained.
Supporters must observe social distancing and be respectful of other supporters and staff.
If you are seated, please allow one seat between each party/bubble. When moving from seats. avoid face to face contact or use a mask.
The fan zones are open with limited numbers on each table (6 maximum). A takeaway service will also be available.
There will be Spennymoor safety staff available to advise and support your safety throughout the day.
There will be a one way system in place around the ground to avoid crossovers in narrow walkways.
The Wood Vue turnstile will solely be in operation, with a ticket only policy.
Please do not turn up if you do not have a ticket. There will be no cash turnstiles in operation.
Upon entry, a turnstile operator will scan the QR code on your ticket.
The Tees Crescent turnstiles will not be in operation.
Turnstiles will open at 1.30pm.
Car parking will be available at the old Durham Road school site from 12.30pm.
There is no charge for parking, however, donations are welcomed.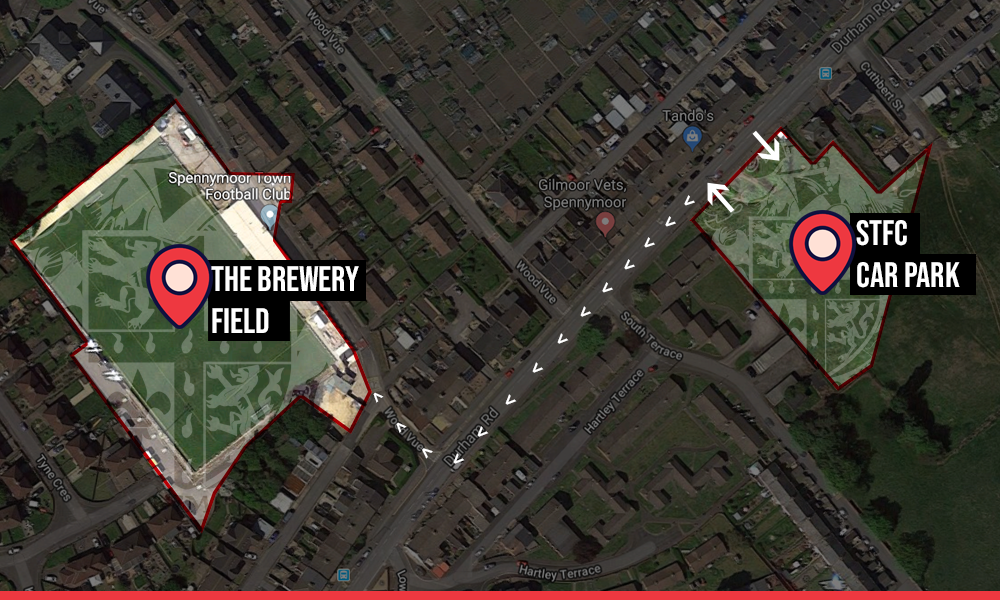 Supporters are welcome to enjoy the bar before and after the game, however, it is limited on a first come first served basis to a maximum of 40 guests.
Table service will be in operation throughout the day.
Masks must be worn when not seated.
The club encourages card payment, but will be accepting cash on the day.
The Sports Bar will be open at 1.30pm.
Supporters can purchase drinks from the bar but must adhere to the queue system in place.
Once food or drink is purchased, you must then take a seat at one of the tables in the fan zone.
Tables in both fan zones are allowed six people maximum.
Anyone purchasing food or drink that is not sitting in the fan zones must then consume their refreshments in one of the seats in the Motif8 stand.
The club encourages card payment, but will be accepting cash on the day.
Both fan zones will be open from 1.30pm.
Thank you for your support and co-operation. Stay alert, stay safe and follow the guidance provided.
The club are delighted to finally welcome supporters back to The Brewery Field.