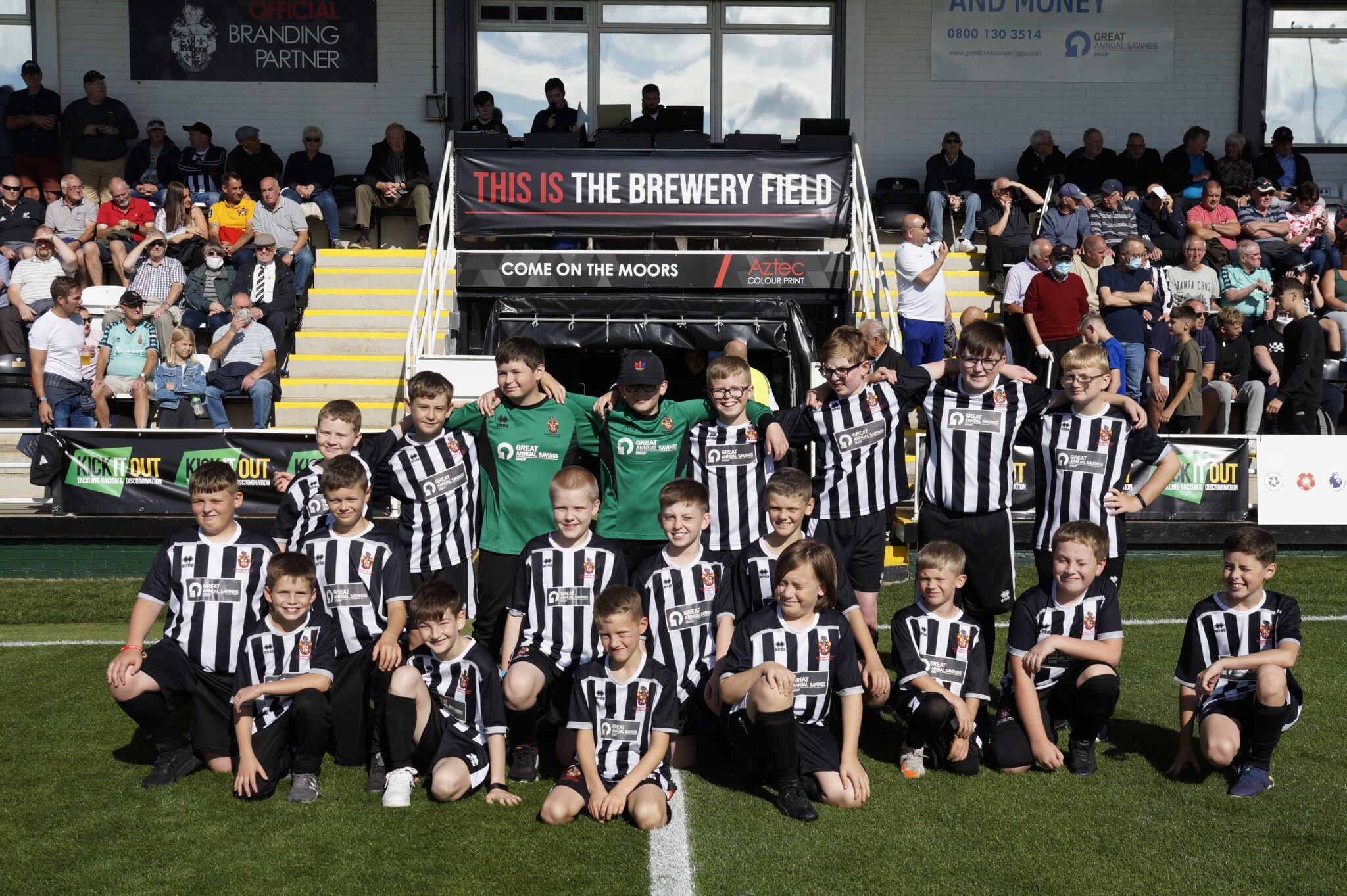 Head of Academy Andy Lowe reflects on a challenging period for the youth set-up and highlights the key achievements over the last two years.
At times we need to pause and reflect, and this week has been one of those times. When we look back over the past few years and evaluate the challenges we have overcome and the positive position we are in – we should all be extremely proud to be part of this amazing football club.  Our academy has gone from strength to strength during the past two years and a number of our success stories are highlighted in this article (there are far too many to put in today's match day programme).
The academy has more than doubled in size and continues to flourish, now boasting a programme with a record number of teams, players, and coaches – 45 teams, close to 700 young people (boys and girls) playing in our teams, development, and mini moors programme – all from ages three years to Under 23's. All our programmes for boys and girls from three– u23 years, as well as our ladies team, come under the academy umbrella. This is supported by an extraordinary 100 plus volunteers firmly underpinning our Football FOR ALL philosophy. These are our next generation of players, supporters and coaches, and it is fantastic to see so many representing Spennymoor Town FC with pride.
I am often asked; how do we gauge success in our academy? My simple answer is 'ensuring we provide opportunities for all, regardless of ability or background – our sole aim is to provide an environment where young people develop a lifelong love of the game, whilst enhancing their health and well-being and skills for life'. We take as much pride in a young player learning to kick a football for the first time, as we do when a player plays for the first team, signs for a professional club or qualifies as a coach or referee. Success should not just be viewed as winning a game or league title.
The last 20 months have been very challenging and difficult for us all, especially for our young people. COVID-19 has impacted all of our lives immensely. Young people have had their education and sporting pastimes significantly affected, while health, fitness and mental wellbeing have all suffered too. However, our young people are resilient and the testing times they have encountered will stand them in good stead for future adversity and challenges.
After missing so much football it has been fantastic to see the enthusiasm and dedication from everyone within the academy to get back to 'normal'. A special thank you must go to our coaches, young players and parents for their commitment and continued dedication to Spennymoor Town FC during this period. Our sole aim has been to ensure we continue to train, play, and spectate in the safest way possible – safety first and ensuring all of our players get back to playing the game they love – everyone should be proud in their efforts in achieving this.
The academy has come a very long way in the past two years. We now have a strategy, structure and competency which matches many full-time professional football league club academies. This allows us over the next five years to build and grow in line with expectations of an academy linked to a National League club and beyond. The strategy and structure we have implemented supports bringing our vision to fruition and ensuring the foundations are now laid for the short and long-term future of Spennymoor Town Football Club.
Our overriding success story is that of close to 700 young players of all abilities, boys and girls playing football on a weekly basis in our football club. Last season we had a hugely successful season with 8 league titles, 9 promotions and 7 cup/tournament wins.  Our academy amassed a record number of appearances from our u18 players in the Durham Challenge cup, reaching the final at the Stadium of light (Eventually sharing the trophy as winners with Sunderland FC u23s due to COVID).
This season has seen the successful introduction of our Advanced Player Development Centre (u8-u14s) as well as u19 and u23 teams, as well as a record number of consecutive 1st team games with an academy player involved in the squad and or on the bench. The academy has made a good start representing the 1st team in the Durham Challenge cup with twelve players playing in the first round. Harry Moss signed professional forms with Premier league club Burnley FC. Our Ladies team won their second successive league title and promotion to their highest league to date.
To date we have over 70 young players who have attended trials/signed for professional football club in the past two years and over 80 players represent their respective District and County teams. Our girls programme continues to grow and now has over 80 girls registered and four teams!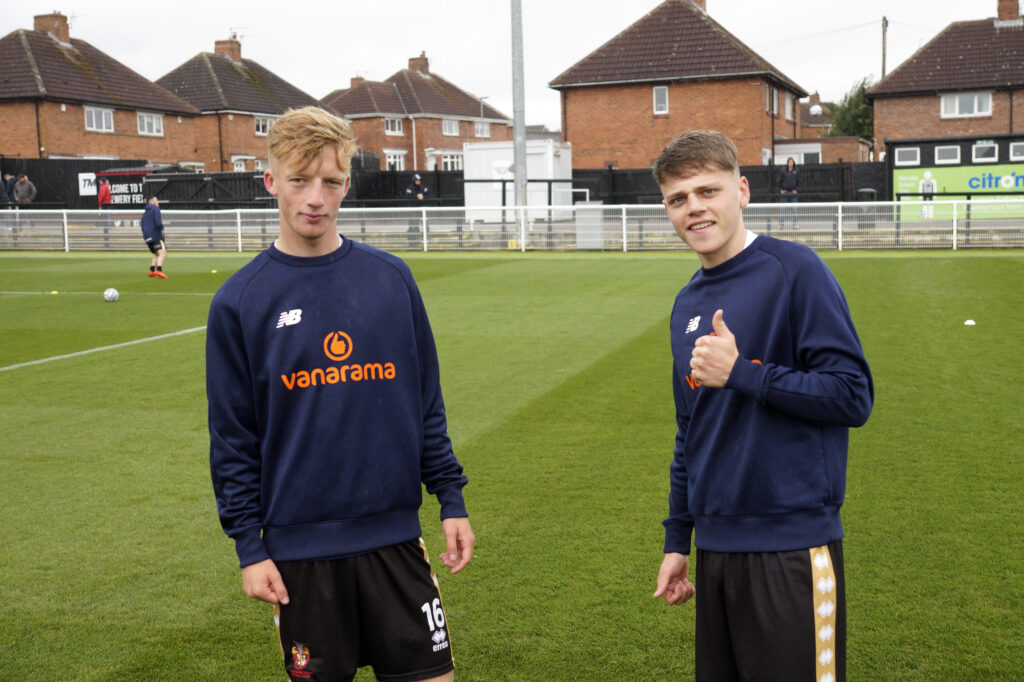 Turnstile 4 is the academy entry point for first team games. We are extremely proud this season at the significant increase in the number of players, parents, families, and coaches who come to watch our 1st team regularly.
These are the next generation of supporters for our football club. On average 350-500 of our academy and their families enter turnstile 4, all enjoying the fabulous community, family feel provided by the football club on a match day. The match day experience has been further enhanced with the pre and mid match opportunity for the young players to create a guard of honour for the players, warm up on the pitch and play five-a-side games at half time. Our team mascot programme really is an amazing opportunity for the players.
Our Mini Moors programme continues to be our beacon. This programme is aimed at providing both boys and girls with the very best introduction possible to football from ages 2 – 7 years of age.
As a club we firmly believe that laying such strong foundations at the youngest age groups will ensure a clear pathway for players of all abilities to develop in a fun, safe and developmental focused environment.
To ensure this happens we have made our intentions very clear and employed age specific coaching specialists, who are vastly experienced in teaching and coaching with a blend of experts in early years development, primary education, and coaching. 
The mini-Moors programme is our introductory football programme. Over 90% of our mini-Moors have moved onto our very successful STYFC teams programme at u6, u7 and u8s. Our overriding aim is that sessions are designed to be FUN, age specific and are designed around a game's centred approach, developing children through a holistic programme encompassing the four corners of technical, physical, psychological, and social development. The programme includes carefully crafted practices by our age specific specialist coaches whereby the game is the teacher.
We are very proud that our programme puts the child at the very forefront in developing an environment which is child friendly, and player centred. Sessions are not heavily coach led and do not include vast amounts of coach intervention, however, they are carefully crafted and designed to empower the children and help to develop confidence, independence, and social skills.
Our mini-MOORS programme is split into two sections.
Mini MOORS Fundamental movement sessions (2-3 years). Aimed at developing the social and physical development of youngsters in an environment that involves the use of balloons, soft balls, hoops, cones, bean bags and many more items which are used in fun and challenging games and activities.
Mini MOORS (4-5 years / 6-7 years)
These sessions are aimed at youngsters having as much time with the football as possible, all youngsters have a ball each and play a variety of small, sided games 1 v 1s, 3 v 3s etc. which develop the Childs technical, tactical understanding, decision making and opportunities to develop multiple skills with the football, all to build youngsters love and appreciation of the football.
If you are interested in your child joining our bespoke programme, please email [email protected]