Anthony Johnson spoke to Moors TV ahead of this Saturday's game with Boston United to discuss the FA Trophy draw at Dagenham, Claudio Ofosu and the high calibre of players in The Pilgrims' ranks.
"Firstly, I'd like to thank all of the fans for last Saturday's support, the team fought until the end and you were a big reason in motivating them to get through to the next round.
"Going up against Dagenham, I think it's a really good draw for us. When you're playing in a National competition ideally you want to be at home but that didn't happen.
"We know they're a good side who consistently finish in the top seven in the league above, and they're in great form with their manager winning the last manager of the month for December. That obviously backs up how well they've been doing.
"I think it's a really exciting draw. It's the first time since we have been here that the pressure will be on the opposition. They are going to be the favourites which won't happen very often.
"What's worked out well is with our game against Kidderminster being cancelled due to their FA Cup run, which gives us the weekend before to go down and watch them play against Chesterfield.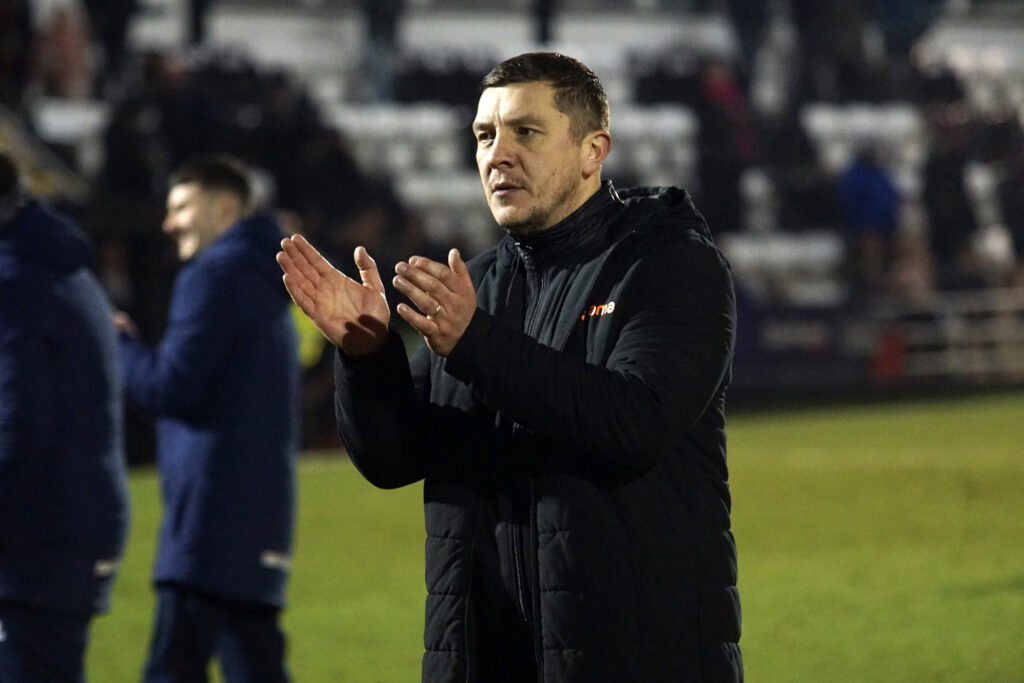 "It does allow to do our homework on them to an extent, but at the same time we don't want to take our eyes off the ball and focus too far ahead in terms of our next two games, which are of course Boston and Alfreton.
"We have also made another addition to the squad with Claudio Ofosu joining the Moors this week.
"Me and Bernard first spotted the midfielder in the FA Trophy a few years back, when we got beat 3-0 and he absolutely ran rings around us.
"He's quick, strong, big, direct and full of tricks he causes massive problems for defenders because they don't know whether to come tight or drop off which is a similar sort of player to Jude Oyibo.
"The lad is an exciting talent and he will be available for Saturday's match against Boston, which is fantastic for us and gives us a nice headache when deciding the squad going into the next few games.
"My statement at the start of the season was, if anyone finishes above Boston, they've won the league because their recruitment over the past few years has been outstanding.
"I've been really impressed with them as a side and I was impressed with their summer signings, however as they have discovered this season; as we found out at Chester, it doesn't always work out the way you want.
"Despite this, they're still doing well this season as they sit in the final play-off place and they will be looking to go through a bit of a honeymoon period to push even further up the table.
"We know some of the players in the camp down there are absolute quality, the likes of Shane Burn, Danny Elliot, Jake Wright, Jordan Preston and Joe Leesley. They have an incredible squad of high-quality players at this level of football.
"So, we'll do as much work as we can on them in terms of analysing and experience as I don't think their defeat to Morpeth was a true reflection of that side because of the surface they played on and the home side's advantage with that.
"This is a massive game for us, I'd probably say it's a six-pointer in a sense that we know that with a win we can leapfrog them, but if they win they pull a bit further away from us in the play-offs.
"Therefore, it's a case of pulling ourselves closer to the play-offs when we play our next to fixtures against teams that are around those positions like Boston."
"I think it's a really exciting draw for us. It's the first time since we have been here that pressure will be on the opposition "

Anthony Johnson on the Trophy draw at Dagenham and Redbridge