Anthony Johnson gave an update on squad outgoings ahead of Moors' fixtures against Gateshead and Chester, as well as a reflection on the defeat at Dagenham and Redbridge.
Johnson said: "We went into the Dagenham game thinking it'll give us a good indicator of the level we aspire to be at in a few years as a football club, and looking at the differences between where we're at and where they're at.
"It wasn't the result we all wanted, but in terms of the performance there wasn't much difference in quality between the two sides.
"We had three players that we brought in to make us better, but they were unfortunately cup tied, so we couldn't call upon them and we also had a man sent off.
"I thought we were outstanding in the first half and we looked a different level with our organisation.
"The players deserve massive credit because the things we worked on in training, we executed to perfection, causing them problems and asking them a lot of questions.
"All of the lads took the information on board and even when we lost our captain, they still had a go which gave us a sense of pride.
"I was saying in the dressing room after the game, 'that's the first time I could look at you all and say that's a Bern and Johnno team'.
"We were obviously gutted about the result, but if we continue to play like that then we have absolutely nothing to worry about for the future.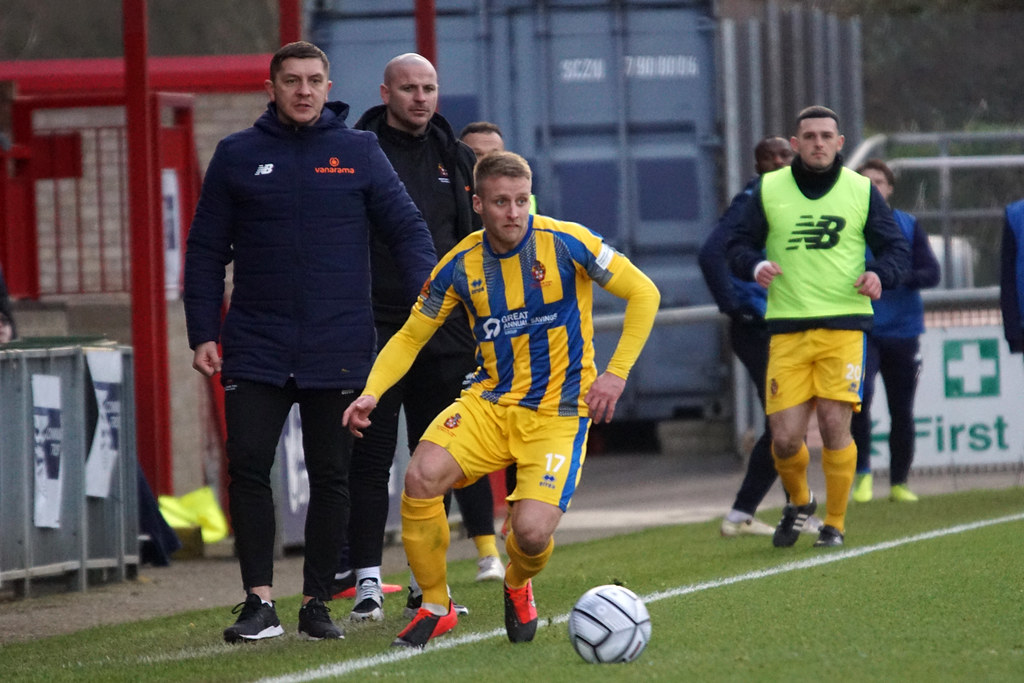 "The message we instill in the players still remains the same since we came in, we're trying to be hard to beat but still win each game.
"We don't look at the games like, 'if we win 13 of the last 19 then we get 39 points then we're in the play-offs.' It's about one game at a time.  
"When me and Bernard first took over, the team had played more games than most of the league. Since then, we've had a few weeks with less games than most, leaving us with three games in hand on a lot of sides around us.
"Nothing has changed since we took the job. We want to claw back into the play-offs, so from our point of view it's about finishing the season as strong as we can to try and get into the play-offs.
"There's been a bit of a transitional period in the club in terms of players leaving, and a few eyebrows have been raised in terms of Scott McLean and John Lufudu, but there are more set to leave in the coming days and weeks.
"This is because, ultimately, as a football team we've failed on the pitch, and it's our job to try and rectify that and identify what the issues have been. That applied to both on-pitch performances and off the pitch in terms of discipline of understanding roles and responsibilities.
"If they don't do the right things on and off the pitch, then unfortunately they will be moved on.
"We'll start to see who we want to work with in the long term, not just next Saturday or Tuesday because they've got to buy into the values of what this football club is about.
"Although Kenton Richardson and Luke Spokes are loan players, they've played in the manner where you'd think they've been here as long as the likes of Glen Taylor, Rob Ramshaw and Jamie Chandler.
"It's brilliant to have them. It would be good to have them in the long term because it's not just the right type of players we need, but also the right type of characters that are going to take us where we want to be.
"Like I said about the Dagenham game in terms of finding out where we're at, it will be the same again on Saturday against the best team in the league.
"It's a brilliant opportunity for us to see how far we've come in a short space of time, and it's a chance to see how much we've improved since the last time we played Gateshead.
"They're a very well coached side, a younger group who play with real freedom and confidence. However, we want to get the play-offs, so we've got to go to places like Gateshead with the confidence knowing how to beat them, which will be implemented into training sessions being held this week.
"Obviously between Saturday and Tuesday we don't have a training session, so it's a case of taking what we do at training tonight and the game on Saturday into the Chester game.
"Hopefully it's all positives that we take from Saturday, but they're two brilliant games for us because if we can go to these places and pick up wins, it puts us in good stead going into more home games next month."
"Ultimately as a football team we've failed on the pitch, and it's our job to try and rectify that and identify what the issues have been."

Anthony Johnson on recent results.