England U18 Schoolboys set to continue their inspiresport Centenary Shield campaign at Spennymoor Town FC
Scotland travel to play their English counterparts on Friday 1 April 2022 at 7pm
The match will be live streamed via the BBC Sport app and website and via the ESFA's YouTube channel, ESFA TV
The English Schools' Football Association (ESFA) will stage their first competitive home international fixture in three years, at Spennymoor Town FC on Friday 1 April 2022, as the England U18 Schoolboys take on their Scottish counterparts in the inspiresport Centenary Shield.
The match, which will be England's second fixture in the Centenary Shield competition, will see Spennymoor Town's Brewery Field stadium host this eagerly awaited fixture between two Great British Nations.
The England side kicked off their season with a 4 – 1 win over the RAF at Rectory Park in Middlesex in January 2022, following with a 1 – 1 draw against Crystal Palace U18s and a 2 – 1 win against Notts County U18s in February. The squad then threw themselves into a 4 day training camp at St George's Park, provided by ESFA sports tour provider, inspiresport, before taking on their ISFA counterparts at Shrewsbury School on the 6th March, ending in a 3 – 3 draw.
Richy Alderson, England U18 Team Manager said "I am very happy with the short journey we have had so far, prior to the Centenary Shield games. The squad have all contributed to some good performances and results. We have played some very good football in the attacking third and it's encouraging to see different goal scorers. I am really looking forward to playing both our home games, but in particular, the fixture at Spennymoor Town FC against Scotland. I played for Spennymoor Town when I was 18 years old for four seasons, before signing a professional contract for York City in 1997. I have great memories playing in a very good team and scoring a few goals myself. The local Spennymoor community are very passionate about their club and football in general and I am sure they will generate a great atmosphere inside the Brewery Field."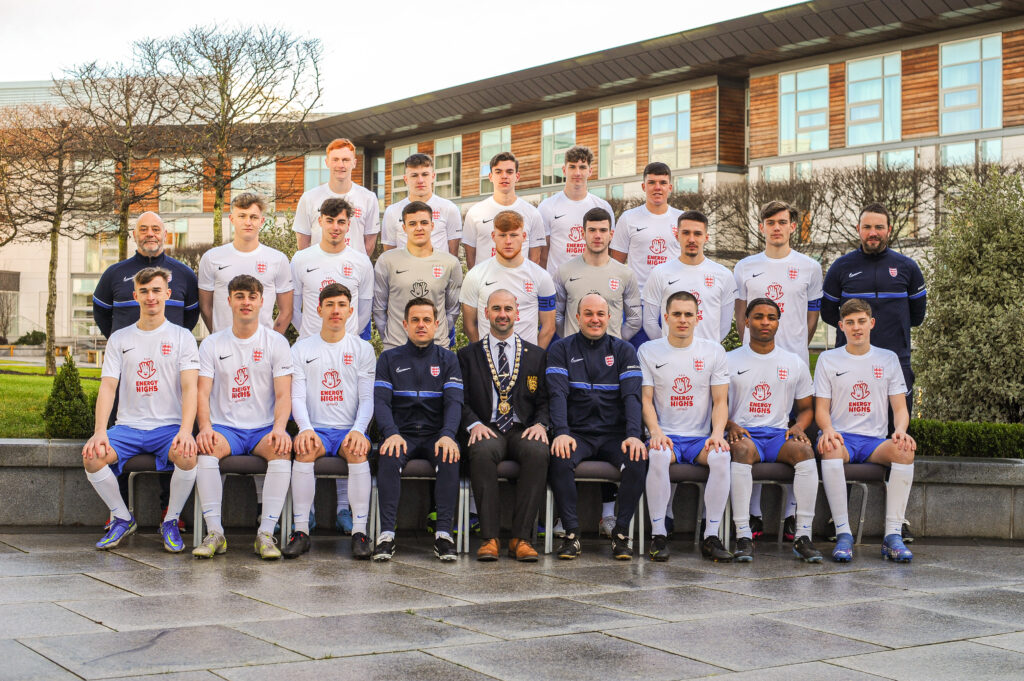 Tony Wilson, Spennymoor Town Managing Director said "We are delighted to welcome both England Scotland U18 Schoolboys to The Brewery Field, along with parents, sponsors and affiliates who will here in attendance. England Schoolboys' football conjures images of some of our country's most famous players and with the importance we put on our academy of more than 300 young people of all ages, abilities and genders, hosting this prominent fixture is a massive deal. We are working hard to put County Durham on the map for football and having these big organisations of international importance in Durham, brings a boost to the whole region."
Tickets for this fixture are on sale via Spennymoor Town's website and with prices at just £5 for adults and £3 for children, the ESFA is hopeful a large crowd will assemble to cheer on the England squad as they embark on the first home leg of this competition.
Those fans who are unable to travel to The Brewery Field on the 1st April will still be able to watch the action live, with it being broadcast simultaneously on the BBC Sport app and website and the ESFA's YouTube channel, ESFA TV.
ESFA Chairman, Mark Hignett said "I am delighted that this season's inspiresport Centenary Shield fixtures are being ared on the BBC, which provides a fitting showcase for schools' football. In addition to my appreciation to the BBC, I must also thank our international sponsors and supporters, Utilita, Pro:Direct Soccer, UCFB, inspiresport, StatSports, First Point USA and Zone broadband. Again, without their support, none of the experiences of being international footballers would be possible for our players."