If you're heading back to The Brewery Field on Tuesday evening then here's a round-up of all you need to know to ensure your visit runs smoothly.
Tickets
Fans can buy tickets for tonight's game right now online – and heading online is the easiest way to purchase because you can opt to print at home or simply download the QR code to your mobile device to show upon entry at the turnstiles.
Online sales remain available until 6pm for a midweek matchday, after which both home and away supporters are able to pay by cash or card direct at The Brewery Field turnstiles.
Click here to buy your tickets online for the game.
There is no segregation in place for Tuesday's game but there is a dedicated turnstile for Alfreton Town supporters who should head for Gate 6.
Turnstile 3: Youth FC and County Durham Lounge
Turnstile 4: Season Ticket holders and those who have purchased tickets in advance
Turnstile 5: Home fans (cash and card)
Turnstile 6: Away fans (cash and card)
All turnstiles open at 5.30pm.
Parking
There is some street parking available, and the Club has also struck a deal with the nearby St Giles Primary School where free parking is on offer. Please refer to the map for direction to the car park.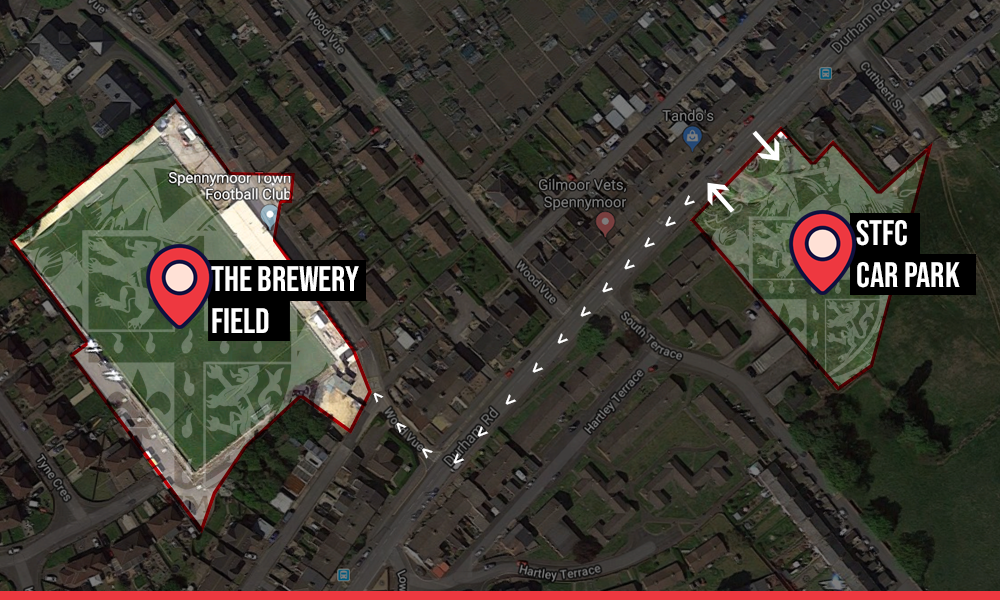 Food and Drink
The Neil Adams Sports Bar is open from 5.30pm. We welcome both home and away supporters and serve a broad selection of alcoholic and non-alcoholic drinks.
We also have two Fan Zones which are also open to all fans from 5.30pm. Here you will be able to buy a selection of hot and cold food, as well as a selection of alcoholic and non-alcoholic drinks.
Plus, you can pick up one of our great value meal deals from the kiosks in our Fan Zones:
Meal Deal 1: Burger/hotdog/pie + soft drink + crisps – £5
Meal Deal 2: Burger/hotdog/pie + pint – £5
We have also added a Tuck Shop style section to our Club Shop if you've got a sweet tooth so make sure to pay a visit to take a look!
Club Shop
The Club Shop is located at the far corner of Ramside Estates Main Stand at the back of the Fan Zone and will open from 5.30pm this evening.
As well as stocking the new home shirt, fans will also be able to buy Match Programmes, as well as sweets and treats.
Programmes
Our relaunched Match Programme is once again available in printed form this season and fans can pick up a copy from the Club Shop and the Neil Adams Sports Bar, as well as from sellers out on the ground.
Contact Details
If you want to get in touch with the Club, you can email us on [email protected]
Alternatively, you can see the latest Moors news and updates on our social media channels on Twitter, Facebook and Instagram.