If you're heading along to The Brewery Field for Saturday's big game, then check out this handy guide to ensure all aspects of your visit run as smoothly as possible.
Kick-Off
Please remember that this game is a 1pm kick-off on Saturday.
Tickets
This is an all-ticket fixture, which means there will no tickets on sale to home or away fans at The Brewery Field on the day of the game.
Season Ticket holders are reminded that their tickets are valid as usual and they do not need to purchase a paper ticket for Saturday's game.
Moors fans who want a ticket can buy one but must be introduced by a current Season Ticket holder. These are on sale from the Neil Adams Sports Bar at the stadium.
Click here for full ticket information ahead of Saturday's fixture.
Entry To The Stadium
Saturday's game against Darlington at The Brewery Field is segregated.
Turnstiles will open at 11am.
Home fans will enter via the following turnstiles:
Turnstile 3: County Durham Lounge & Youth FC
Turnstile 4: Season Ticket holders
Turnstile 5: Home pre-paid tickets
Away fans should head for the Tees Crescent turnstiles, which are numbered 1 and 2.
Parking
There is some street parking available, and the Club has also struck a deal with the nearby St Charles Primary School where free parking is on offer. Please refer to the map for directions to this car park.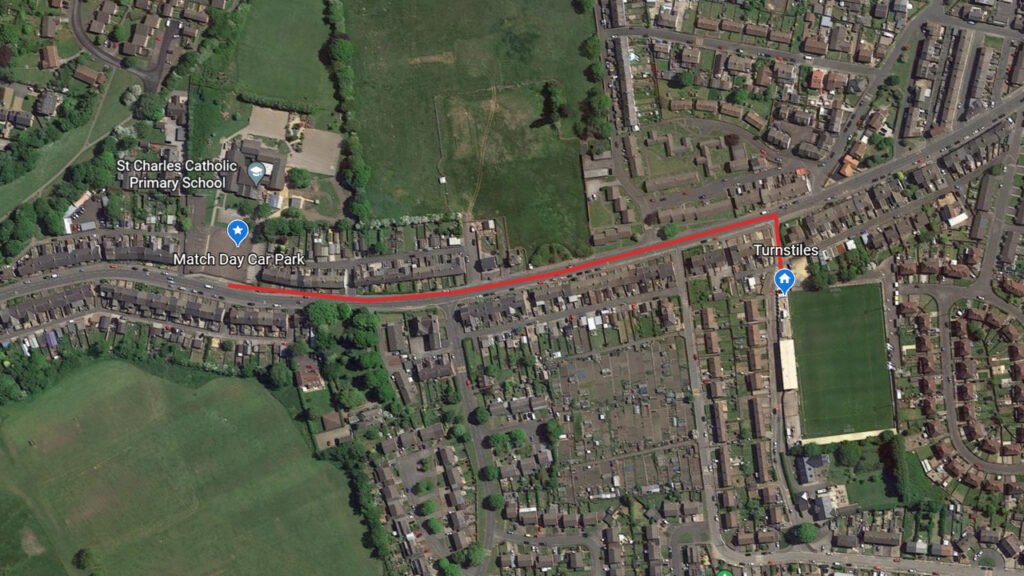 car park.
Supporter Safety
Both clubs have joined together with Durham Constabulary to wish supporters of Spennymoor and Darlington an enjoyable afternoon at The Brewery Field.
Moors have used supporter feedback and previous experiences to improve segregation and are working with a new safety partner to ensure all supporters can enjoy a safe and welcoming environment on Saturday.
Click here to read the full joint statement.
Food and Drink
The Neil Adams Sports Bar is open from 11am. All home supporters are welcome to join us to enjoy a broad selection of alcoholic and non-alcoholic drinks.
The Jason Ainsley Fan Zone will be open to home supporters when turnstiles open and is located in the corner of the stadium between the Ramside Estates Main Stand and the Motif8 Stand.
Within this Fan Zone home fans will be able to buy a selection of hot and cold food, as well as a choice of alcoholic and non-alcoholic drinks.
Meal Deal 1: Burger/hotdog/pie + pint – £5
Meal Deal 2: Burger/hotdog/pie + crisps + soft drink – £5
We have also added a Tuck Shop style section to our Club Shop if you've got a sweet tooth so make sure to pay a visit to take a look!
Meanwhile, visiting supporters will have exclusive access to The Axe House Fan Zone which lies within their segregated area within the stadium.
Darlington fans will be able to enjoy a selection of hot and cold food, though due to police advice we are unable to sell alcohol for this fixture.
Hospitality
If you're quick you can snap up a place in our County Durham Lounge to add some extra sparkle to your matchday at The Brewery Field.
For just £40 (or £30 for Season Ticket holders) you can claim a FREE drink upon arrival, a hot and cold buffet, private access bar, a FREE Programme and team sheet plus reserved seating in the Ramside Estates Main Stand.
Click here for more information.
Club Shop
The Club Shop is located at the far corner of Ramside Estates Main Stand at the back of the Jason Ainsley Fan Zone and will open from 10am on Saturday.
As well as stocking the new home and away shirts, fans will also be able to buy Match Programmes, as well as sweets and treats from our brand new Tuck Shop.
Programmes
Our relaunched Match Programme is once again available in printed form this season and fans can pick up a copy on Saturday from the Club Shop and the Neil Adams Sports Bar, as well as from sellers out on the ground.
Contact Details
If you want to get in touch with the Club, you can email us on [email protected]
Alternatively, you can see the latest Moors news and updates on our social media channels on Twitter, Facebook and Instagram.