If you're planning to join us at The Brewery Field on Saturday, then check out our handy guide to ensure your visit runs as smoothly as possible.
Tickets
Saturday's game against Peterborough Sports at The Brewery Field is not segregated, though fans of both sides can buy tickets in advance right now.
Heading online is the easiest way to purchase because you can opt to print at home or simply download the QR code to your mobile device to show upon entry at the turnstiles.
Online sales remain available until 12noon on matchday, after which both home and away supporters are able to pay by cash or card direct at The Brewery Field turnstiles.
Click here to buy tickets online now.
Turnstiles 1 and 2: Away fans
Turnstile 3: Youth FC and County Durham Lounge
Turnstile 4: Season Ticket holders and those who have purchased tickets in advance
Turnstile 5: Home fans (cash and card)
All turnstiles open at 12noon.
Parking
There is some street parking available, and the Club has also struck a deal with the nearby St Charles Primary School where free parking is on offer. Please refer to the map for directions to the car park.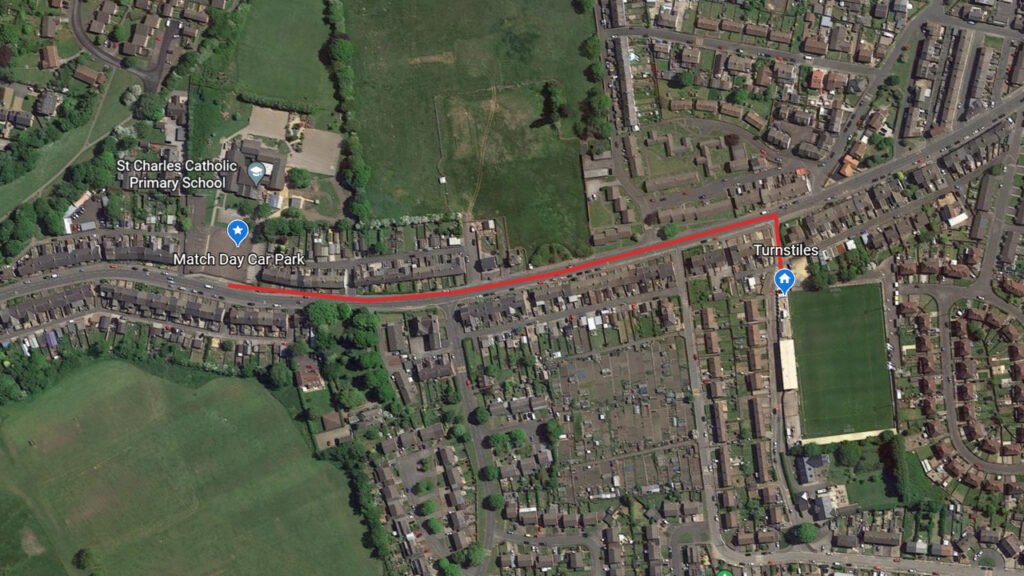 Food and Drink
We continue to work hard to ensure that prices for food and drink at all outlets across The Brewery Field are competitive and give all supporters the best value for money possible.
The Neil Adams Sports Bar is based within our Club House and is open from 12noon. We welcome both home and away supporters and serve an impressive selection of alcoholic and non-alcoholic drinks.
We've also partnered with local brewery Caps Off and we're delighted to be offering their Hot Wired Tuk-Tuk pale ale on draught as well as a range of their other canned craft ales to try!
We have Fan Zones in both the home and away areas of the stadium which are open from 12noon. Here you will be able to buy a selection of hot and cold food, as well as a selection of alcoholic and non-alcoholic drinks.
If you're yet to try one of our delicious Meal Deals then make sure you take advantage this weekend because not only are they tasty, they're also stunning value.
Meal deals available from our Fan Zones are:
Pie/Burger/Hot Dog & Pint – £6*
Pie/Burger/Hot Dog & Crisps & Soft Drink – £6*
*You can also add chips to your Meal Deal for just £1.50
We also have a Tuck Shop in our Club Shop if you've got a sweet tooth so make sure to pay a visit to take a look!
Pre-Match
Join us in the Neil Adams Sports Bar where we'll be screening the early kick-off in the Premier League as Liverpool look to continue their good form with a trip to Bournemouth.
At half time in the game, we'll be continuing our new Match Talk spot as General Manager Ian Geldard is joined for a pre-match chat by Moors First Team Coach Lewis Dickman.
This new pre-match feature has proved very popular with supporters so make sure you get into the Sports Bar early on Saturday to listen to what Dickman has to say ahead of the game.
Club Shop
The Club Shop is located at the far corner of Ramside Estates Main Stand at the back of the Fan Zone and will open from 12noon on Saturday.
As well as replica kit, we've now taken delivery of a wide range of winter clothing including bobble hats, scarves, snoods, gloves and two different styles of coats for you to check out.
We've also got a range of training apparel now in stock, as well as a variety of other Moors merchandise for you to cast your eyes over.
Click here to order items from our Online Store.
Programmes
Our popular Match Programme is once again available in printed form this season and fans can pick up a copy on Saturday from the Club Shop and the Neil Adams Sports Bar, as well as from sellers out on the ground.
Contact Details
If you want to get in touch with the Club, you can email us on [email protected]
Alternatively, you can see the latest Moors news and updates on our social media channels on Twitter, Facebook and Instagram.