If you're joining us for our game against Hereford, then check out this handy guide to ensure your visit to The Brewery Field runs smoothly.
Tickets
Saturday's game against Hereford at The Brewery Field is not segregated, though fans of both sides can buy tickets in advance right now.
Heading online is the easiest way to purchase because you can opt to print at home or simply download the QR code to your mobile device to show upon entry at the turnstiles.
Online sales remain available until 12noon on matchday, after which both home and away supporters are able to pay by cash or card direct at The Brewery Field turnstiles.
Click here to buy tickets online now.
Turnstiles 3 and 4: Home fans (cash and card)
Turnstile 5: Home fans (Season Ticket holders and pre-paid)
Turnstile 6: Away fans
Turnstiles will be open at 12.30pm.
Parking
There is some street parking available, and the Club also has a deal with the nearby St Charles Primary School where free parking is on offer. Please refer to the map for directions to the car park.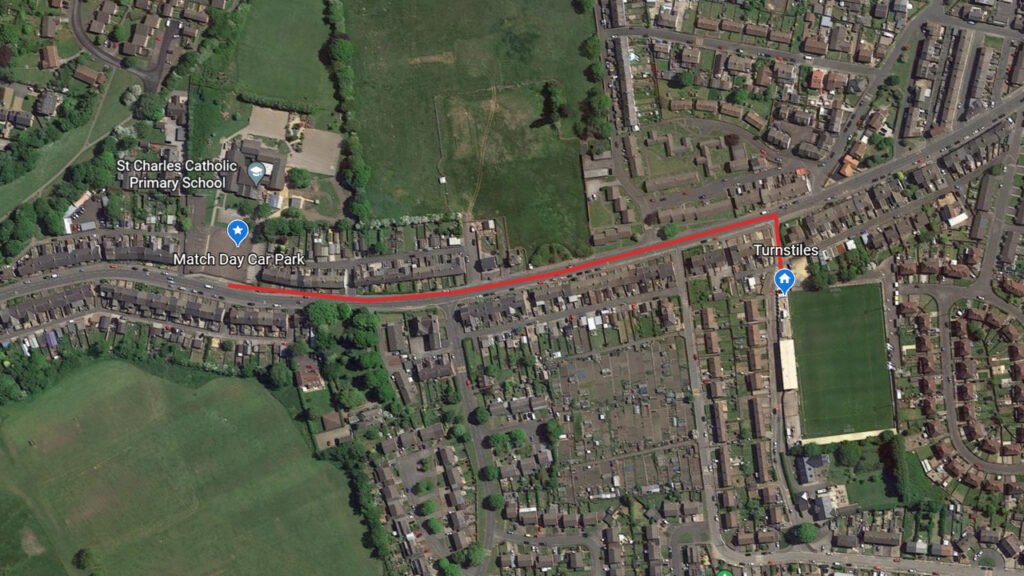 Food and Drink
We continue to make a real effort to ensure food and drink inside The Brewery Field is available at competitive prices for home and away supporters.
The Neil Adams Sports Bar is welcoming of home and away fans and will be open at the same as the turnstiles at 12.30pm and fans are welcome to come and join us for a pre-match drink or two.
We serve a range of alcoholic and non-alcoholic drinks and our warm atmosphere and welcoming atmosphere is the perfect place to build-up to kick-off.
There are a range of draft lagers, beers and ciders, including Madri, Carling, Coors, Carling Cider, Worthington's, Caffrey's and our Caps Off pale ale.
Food is also served from our two Fan Zones located in opposite corners of The Brewery Field where you can enjoy football favourites such as burgers, hot dogs, pies and chips.
Post-Match
There's no need to hurry home after the final whistle on Saturday because we'll be showing England's European Championship qualifier against Ukraine which kicks-off at 5pm.
Join us in the Neil Adams Sports Bar where our multiple screens and booming surround sound makes it one of the best venues in the town to enjoy live sport.
It's always a great atmosphere in the Sports Bar too – so win, lose or draw, make sure you stick around and have a post-match drink with us at the weekend.
Club Shop
Fans can find an array of Moors merchandise from our outlet now based inside the Neil Adams Sports Bar on matchdays.
We've got replica home and away kits on sale, as well as a range of new training and casual wear so that you can show your colours wherever you are.
Click here to take a look at our products online.
Programmes
We've revamped and relaunched our popular Match Programme for 2023/24 and are continuing to produce printed copies for our supporters on matchday.
Inside Saturday's issue you'll find a brilliant interview with Moors' former Hereford man Ben Pollock, while there are also columns from Jamie Chandler and James Curtis, plus unmissable features with Danny Greenfield and Corey McKeown!
Pick up your copy from the Sports Bar before the game while stocks last!
Contact Details
If you want to get in touch with the Club, you can email us on [email protected]
Alternatively, you can see the latest Moors news and updates on our social media channels on Twitter, Facebook and Instagram.