Spennymoor Town FC is proud to announce its new Management Team.
Anthony Johnson and Bernard Morley are the club's new First Team Managers and will take charge of the squad immediately. Their first fixture will be Saturday's FA Trophy visit to Radcliffe.
The former Chester and Salford bosses are two of non-league football's most recognisable personalities with impressive records at the helm of their previous three clubs.
They led Chester for three-and-a-half years, finishing ninth and sixth in the National League North and sitting third when last season was cut short by Covid. Their departure came in November, but it was far from a bitter split.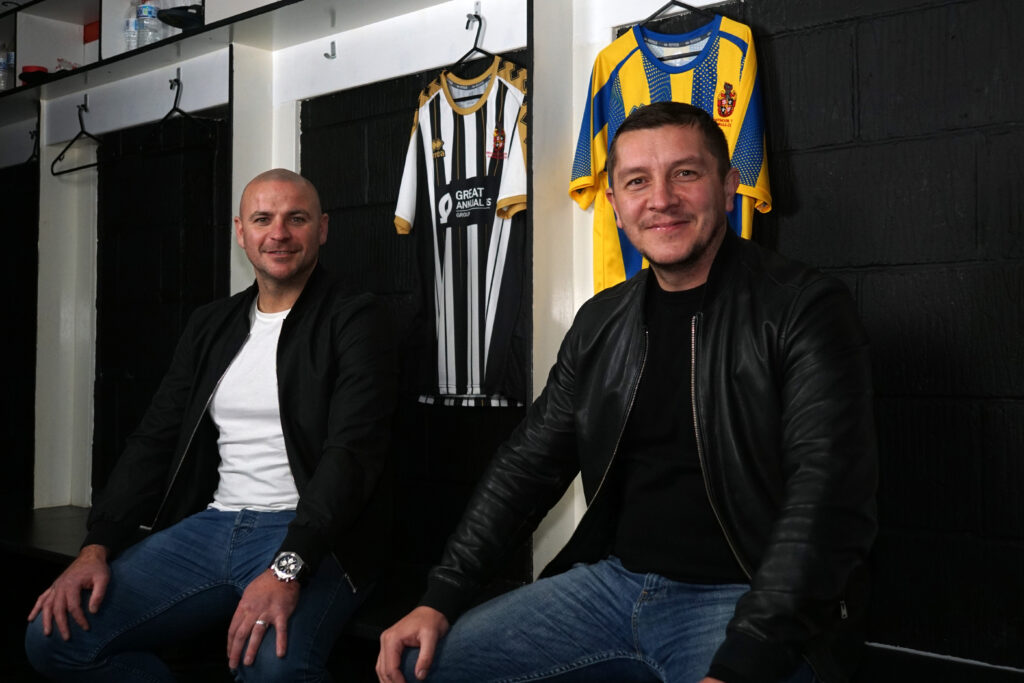 The Bury natives started their management careers at Ramsbottom United in 2009/10, where they were former players. They enjoyed unprecedented success, setting several club records including most away wins and The Rams' highest ever finish within two years.
That success was eclipsed over the following four years with a double promotion into the Northern Premier League Division One North and then the Northern Premier League Premier Division, along with another hatful of club records and league management awards.
In January 2015 they made a move to the "Class of 92" backed Salford City and were catapulted into the public eye via a BBC documentary charting the club's progress under its famous owners.
They were tasked with repeating their feat of the previous season and gaining promotion to the NPL Premier Division. Salford won 15 from their last 17 games to leapfrog Darlington 1883 and achieve their goal.
Salford went on to reach the second round of the FA Cup and achieve another two promotions under Johnson and Morley, before they left the club in their promotion season to the Vanarama National League.
Johnson and Morley will be joined by former Ashton United, Hyde United and Buxton Manager Steve Halford as First Team Coach, along with current Management Team members Barry Farr, Goalkeeping Coach, Andy Oates, Physiotherapist, and Gav Cogdon, Strength and Conditioning Coach.
Brad Groves, Chief Executive of Spennymoor Town FC, said: "I am delighted to be able to reveal Anthony and Bernard as our new Managers.
"We had incredible levels of interest in the role and some exceptional candidates applied. We are grateful and humbled by the interest, which only confirms the work we have delivered over the last decade to build our brand and community club to being the pride of County Durham.
"Initiatives like 'affordable football for all'; our ground development project; partnerships with colleges and community groups; and our work with supporters have made us the club we aspired to be.
"When we met it was clear to all parties that they were the right people to deliver the change we are looking for.
"Their history of rapid progress and record-setting achievements fits with the culture of our whole group and I have no doubt their impact on the squad will be profound.
"We have all been spoiled at Spennymoor Town and this season is the first time we have struggled.
"Despite a poor run, we're still within touching distance of the play-offs and a real boost is all we need to get our season back on track.
"Anyone who knows non-league football knows what to expect from Anthony and Bernard's arrival and I think that speaks volumes of their achievements.
"It's an exciting time for the club and I know our supporters will get behind the lads and the players from the off next weekend.
"Together with Jason and Tony, I believe we now have the ideal team in place to deliver our short and long term goals."
Tony Wilson, Managing Director of Spennymoor Town FC, said: "This is a statement of intent. We started the season so well and everyone was riding high. We want to get back to that as soon as possible and I see no better way.
"I thoroughly enjoyed hearing Anthony and Bernard's vision for the squad and I know our supporters will enjoy watching it on the pitch.
"They'll be vocal, passionate and effective. Just what we love in the North East.
"I'd like to wish Anthony and Bernard the best of luck in the role."
Jason Ainsley, Head of Football at Spennymoor Town FC, was in caretaker charge as Moors ran out 4-2 winners over Chester yesterday. He said: "I am long standing admirer of Anthony and Bernard and we have had many enjoyable exchanges over the years.
"This is a real coup for the club to bring them here and I know they feel the same way. I would like to wish them the best of luck for the rest of the season and beyond."
Johnson and Morley had their first interview with Moors TV this morning. Look out to hear from them later today.